Hello All,
I don't know about you guys but this week as been dragging on like nothing else. Maybe its because I get to go home this weekend for the whole weekend. The last time I was home was 1 night over Martin Luther King Jr. Day weekend and I am so homesick now.
But its Thursday and around these parts it means its time to countdown and get excited for my Disney Cruise happening in 79 day!
This week I'm going to talk to you about one of the coolest part of the newer Disney ships which is the Aqua Duck!
For those of you who have never heard of this it bascially a water roller coaster that goes all around the deck and for about 10 seconds you feel like your are flying over the ocean. How? Well if you look down all you see is the ocean. How cool is that?
And now here are some fun facts about this awesome ride on board a ride.
-The slide itself is 765 feet long!
-Located on the Disney Dream and the Disney Fantasy Ship
-Enterance of the slide is located on the 12th deck
-Designed to be like a rollar coaster
-You must be at least 42 inches to ride!
-Must be able to board the ride without assitant
-It is suggested that you wear your swimsuit
-May be closed because of storms or strong winds
-The first water rollar coaster at sea!
I was really excited to write this post because on my last Disney Cruise I actually go to on the Aqua Duck! Although the line was long it was very much worth it. The only downside to doing is the line is outside on the deck in the direct sun so it is HOT! And you can't wear you flip flops because no lose items are aloud on the ride. If I remember correctly the cast members on the ship to spray down the steps with water to make it a little cooler. But all in all the ride is awesome and a must try if you go one of the ships.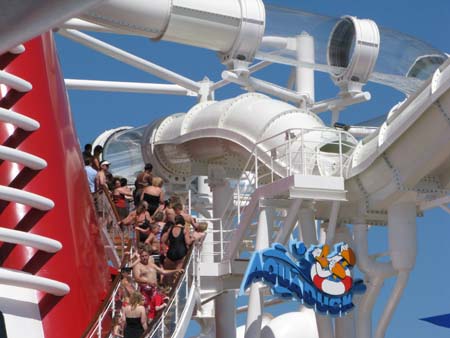 The line waiting to get on
Source
And now a special video a treat. A POV ride along video of Aqua Duck! Enjoy!
During the Day
And night
I'm so excited to get back on the AquaDuck and try it again! Have you ever been on a Disney Cruise AquaDuck? What did you think? Let me know in the comments below!