Hello All,
In less then a week my favorite summer show begins again! I can't wait for Big Brother 15 to start again! Yesterday I spent some time watching the video introduction of the new players. You can check them out
here
.
My favorite ones from their introduction videos are...
Elissa (Rachel from Big Brother 12 & 13's Sister)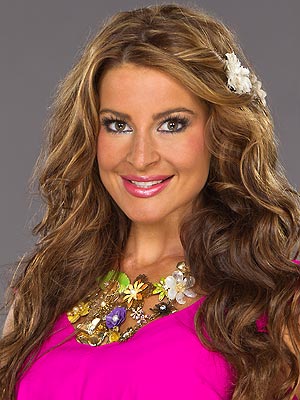 Aaryn
Andy
Judd
McCrae
Candice
I know very little about these house guest but I as of right now these were the houseguest that I liked by firs impression. But instead of talking about them I want to talk about the best players of all time in my opinion!
Chicken George (Big Brother 1 and All-Stars)
I liked George for both game reasons and personality reasons. I found George so funny when I first watched in All-Stars, I couldn't figure out if George was going a senile or what but he always adorable and good spirit. Part of me thinks that his cluelessness might have been part of his game play.
Jerry (Big Brother 10)
Jerry is the oldest houseguest in Big Brother history and in my opinon one of the most adorable players. Even with his age Jerry made it all he way to the Jury house and to me that's a pretty impressive accomplishment. And that is the sole reason Jerry made it to my best player list.
Monica (Big Brother 2)
Monica was both sweet and sassy! Monica made to the final three and I was sad when she wasn't brought back for All Stars. I also look at Monica as a very strong person, she was never brought down by the house's drama.
Frank (Big Brother 14)
I wasn't a Frank fan, I actually spent the majority of his season hoping that he'd be evicted but instead Frank made it far. I can't deny he was a good player and does deserve to be on the best players list.
Ian (Season 14)
The winner of Big Brother 14. The nerd, an adorable nerd. And the 22 year old who took down his coach Mike Boogie! I thought that Ian played an incredible game his season and deserved the 1/2 million dollars. I know from watching youtube videos that many people thought Ian only won because the Jury didn't want to award it to Dan but I think Ian earned it.
Dan (Season 10 and 14)
Winner of Big Brother 10 and runner-up in season 14. Dan deserves to be on this list for many reason but one of the biggest reason is that he is the closest any winner has ever gotten to winning twice. But also Dan is known for his mist he munpiulated his way off the block and took risks with his allies in order to win the game.
Will (Big Brother 2 and All-Stars)
I absolutely I loved Will, I loved he way he played the game, mainly because I think in many ways it how I would play the game. Never once did Will win an HOH because he didn't want the blood on his hands but instead he was able to manipulate every HOH so the house guest he didn't like would go home.
If I could assemble a dream Big Brother House of people I would want to play against a lot of these players would be house guest along with a few others.
So, my question for you, any big brother fans out there, WHO do you think deserves to be on the Best Big Brother Players list? And who are your front runners for this season? Let me know in the comment because I'd love to know.
And starting next Friday I will give you my weekly reviews for this season of Big Brother including twist, nominations, HOHs, POVs and everything else.
XOXO,
Em.