Hello All,
Today I'm back with another Netflix Review!
A couple of weeks ago I watched a movie on Netflix called, 23 Blast.
23 Blast based on the true story of Travis Freeman (Mark Hapka) who was the star football player on his high school team. One day Travis wakes up to his eyes being swollen shut because of a serve sinus infection. Which causes him to need emergency surgery. When Travis wakes up he no longer has his ability to see. In the beginning Travis has his hardships with his new disability but with the help of parents (Dylan Baker and Kim Zimmer), his friends Jerry (Bram Hoover) and Ashley (Alexa PenaVega) and special education teacher Mrs. Crawford (Deirdre Brennan) he's able to see the good life again. Travis' love of football causes him to suggest changes in the line up to his football coach (Stephen Lang) which gets his coach thinking that maybe Travis can still play.
LtoR: Coach Farris (Stephen Lang) and Travis Freeman (Mark Hapka)
Source
I love sports movies, especially the ones that are based on true stories. This story was inspiring and serves to remind us that even when life hands us lemons that you can always make lemonade. I loved seeing how positive Travis remains even when he was having difficulty learning new a football position as a blind man.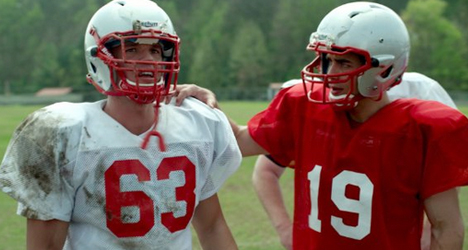 LtoR: Travis (Hapka) and Jerry (Bram Hoover)
Source
I felt like the acting was only subpar. There were many times that it felt like the characters should be showing more emotions and they seem to have blank expressions. I read online that it was the directional debut of Dylan Baker and I'm not sure if he wasn't pushing the actors enough or if the actors just weren't that good but something was definitely missing in this movie.
LtoR: Travis (Hapka) and Ashley (Alexa PenaVega)
Source
Another thing I didn't like about this movie was the lack of chemistry between almost all of the characters. It felt like none of the actors had ever met before filming each of scenes. It was very strained and at times hard to watch.
LtoR: Unknown, Travis (Hapka) and Jerry (Hoover)
Source
Although I will say that Mark Hapka did a fantastic job protraying a young man who had gone blind. He did it in a smart way that did seem like it would be offensive to others.
Although I loved the story I wouldn't say the movie was a life changing by any means. I don't think I will ever watch the movie again nor would I recommend this movie. I also wouldn't say that it was the worse movie I have ever seen, I think I would rank this movie a 4/10.
LtoR: Ashley (PenaVega) and Travis (Hapka)
Source
Have you seen 23 Blast? What did you think of the movie? Let me know in the comments down below.