Hello All,
Recently I went to see the movie Trainwreck staring Amy Schumer (Inside Amy Shumer, Amy Shumer: Mostly Sex Stuff, A Different Spin on Mark Hopper), Bill Hader (SNL, Superbad, Cloudy with a Chance of Meatballs, Her), Vanessa Bayer (SNL, Despicable Me 2, Adventures in the Sin Bin), Tilda Swinton (Adaption, We Need to Talk About Kevin, Narina, Moonrise Kingdom), John Cena (WWF Raw, The Marine, 12 Rounds, and The Reunion) and LeBron James (You know the basketball player). And here's the preview because the movie.
This movie was about Amy (Schumer) who was raised by a dad who put Charlie Sheen's character in Two and Half Men to shame. Because of that Amy had a hard time finding strong, healthy relationship. When the movie opens Amy is in a relationship with Steven (Cena) but is still sleeping with other men causing them to break up. But it isn't long before Amy gets assigned an article for work where she interviews sport doctor Aaron something (Hader) who becomes the first person to boyfriend Amy had ever had that treated her the way a girl deserves to be treated.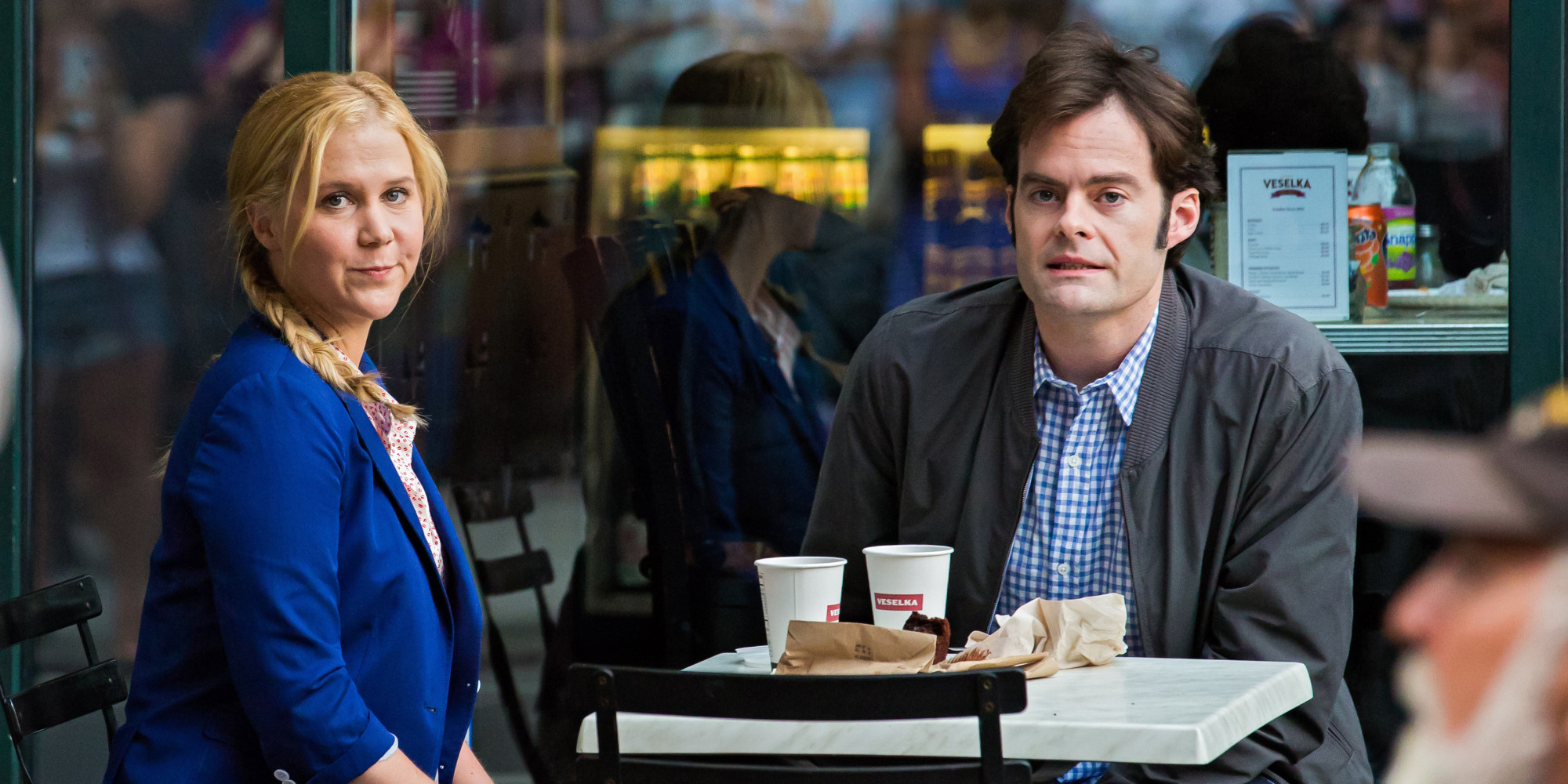 LtoR: Amy (Schumer) and Aaron (Hader)
Source
I am a huge fan of chick flicks but this movie wasn't the typical chick flick. It felt like they tried to cram has many cliches of chick flick as possible into one chick flick. And it didn't work because none of these storytelling elements worked because they weren't able to develop fully enough.
LtoR: Amy (Schumer) and Aaron (Hader)
Source
Speaking of not developed enough, I felt like the character's development didn't work that well. Many of the developments felt that they were unrealistic. There really wasn't a character that I was rooting for or rooting against. Actually scratch that I pulled for John Cena's character and LeBron James who played himself. For me they were the only likable characters.
LtoR: LeBron James and Aaron (Hader)
Source
Although the story wasn't great it was funny. There were some really laugh out loud moments. And some not so laugh out loud moments that were still funny. And the although Amy's father wasn't the best guy in the world his story line did pull at the heart strings.
Would I reccomend this movie? Well I wouldn't pay to see the movie again. But one day in the future I might pop it on Netflix or on the TV. Also it was a perfect distraction from the heat was in the Northeast. LtoR: Amy (Schumer) and Steven (Cena)
Source
Have you seen Trainwreck? What did you think? Let me know in the comments below.